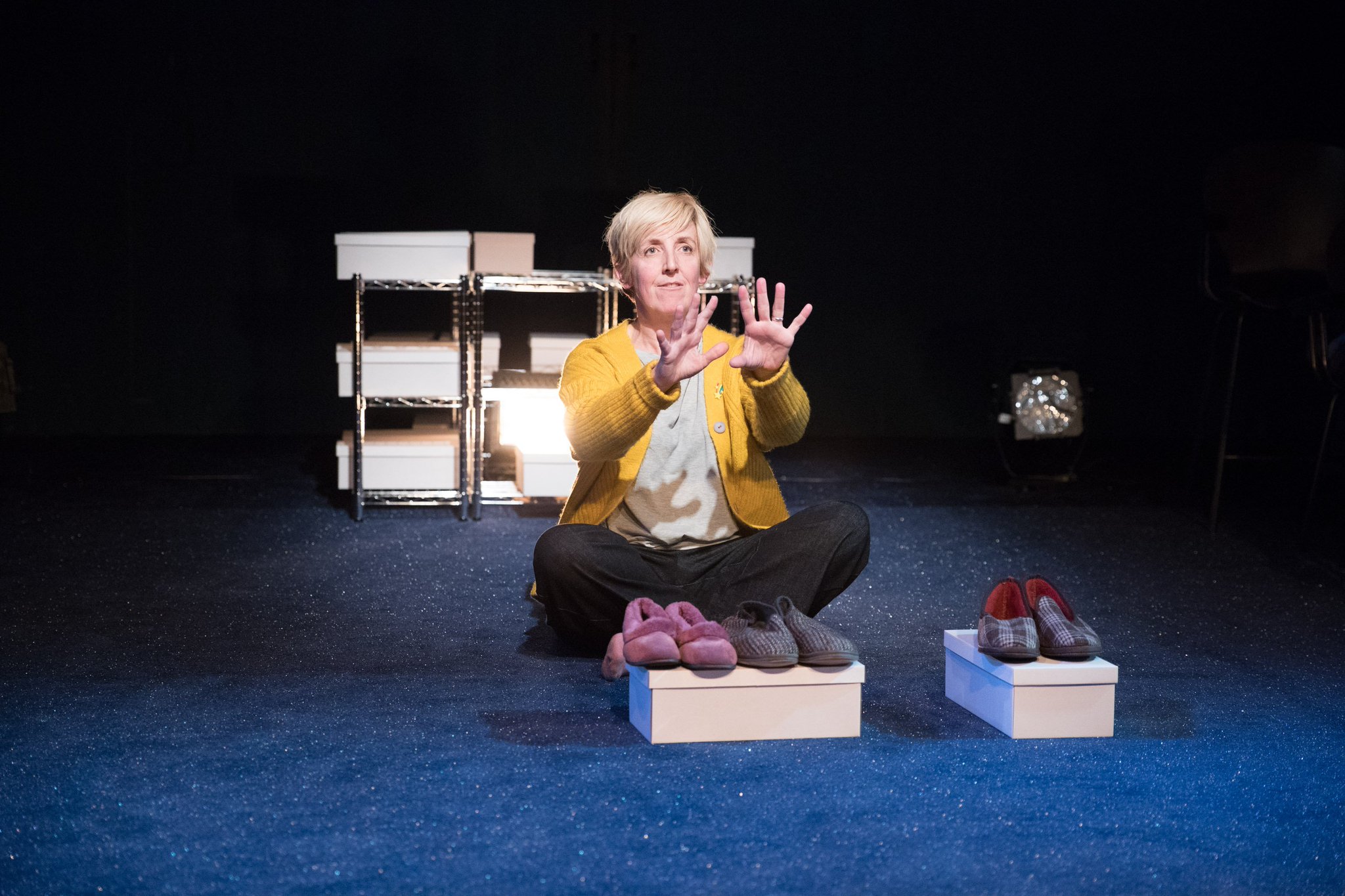 The Greatest Play in the History of the World … is about disappointment and hope, memories and legacies and, of course, love. As a story, it is charming – if shamelessly sentimental – and features a masterclass performance from the extraordinary Julie Hesmondhalgh, as well as some inspired direction and design from Raz Shaw and his creative team .
The play opens with a recorded introduction to the Golden Records which were launched into space on the Voyager craft in 1977; a time capsule of images and sounds intended to convey the diversity of human life and culture on earth to intelligent extraterrestrial life forms. We hear further recordings about the content, purpose and creators of this project intermittently throughout the play, beautifully illuminated by bare bulbs providing twinkling starlight.
Meanwhile, Hesmondhalgh recounts a narrative of a much more parochial nature. It focusses on a particular street – Preston Road – which is recreated as a performance space between two banks of seats. As she sweeps along this 'street', Hesmondhalgh introduces us to the resident of No 30 (Tom, aged 31), his elderly neighbours (Mr and Mrs Forshaw), some unruly kids down the road and a 26-year old woman who has recently moved in opposite Tom at No 27: each resident being brilliantly represented by a pair of slippers. (Shoes are used throughout the play to evoke various other characters and it is a remarkably vivid and engaging device.)
In the course of the story, we learn about Tom's romantic disasters (all, comically, with women named Sarah) and his arrival at a time in his life where he feels he has lost purpose and rarely even leaves his house. We learn that he is, by nature, a 'words man' and is dreaming of a 'numbers woman' who will complete him – yang to his yin. We also learn a little about the new resident of No 27 (who, coincidentally and fortuitously, is recovering from a romantic disappointment and also feels 'stuck'). And finally we learn that Mr and Mrs Forshaw are retired teachers, that he's had mental health problems, she has a terminal disease and together they seem to be building something strange in their over-sized garden shed. Then, early one winter morning, something mysterious happens; time and the universe appear to stop and our characters' lives change forever …
Much of the writing (by Ian Kershaw) is excellent. The narrative jumps around between characters, events and time, but the different threads are very cleverly woven together so that we don't lose track of the central trajectory of the story. It is also richly textured with some brilliantly observed (and very funny) detail about the characters and their experiences. After a while, however, the overall simplistic romanticism of the story feels somewhat cloying and detracts from the sharpness of the observational content. This is exacerbated by a protracted ending, invoking the Golden Records, in which we are invited to reflect and consider on a micro, individual level, how we would wish to capture the essence of our own lives and project it into the future. This extended scene, which explores the variety of things we might choose, significantly dilutes some of the story's genuine poignancy and begins to feel emotionally manipulative and heavy-handed.
That said, Julie Hesmondhalgh is nothing short of astonishing. The word 'charismatic' is woefully inadequate to capture the passion, subtlety, range and vibrancy of her performance. She is a consummate story-teller, and the energy and pacing of the performance ensures that she has our rapt attention throughout the seventy minutes. Her rapport with the audience also feels totally authentic (I am reminded of Jonny Donahoe in the wonderful Every Brilliant Thing) and I find myself smiling from the first moment to the last.
The Greatest Play in the History of the World … ultimately feels rather insubstantial, but it has many terrific moments and Julie Hesmondhalgh ensures that it is a delight to watch.